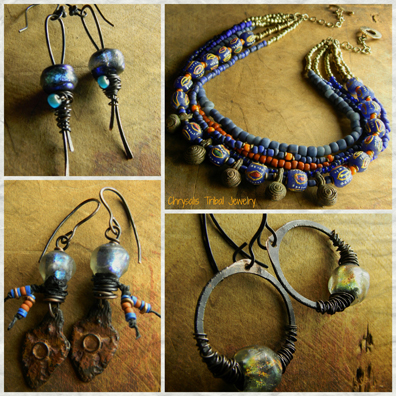 Basha and Bells
Sort of a tribal holiday theme, I guess?
Basha beads can best be described as heavenly iridescent. Different lighting or vantage points both reveal subtle changes in color, reflection, and seemingly endless depth. They are artisan lampwork glass beads by Barbara Metzger, each with the look of something ancient and rare. Three different styles of Basha bead earrings are shown in the above photos.
This week I completed a wonderful ethnic statement necklace of blue Krobo beads and Yoruba brass bells. The bright cheery Krobo beads are also known as power glass or sand cast beads, made in Ghana in the region for which they are named. Primitive Yoruba brass bells are made in Nigeria using the same lost wax method that was used 1,000 years ago or more. All of the Krobo and Yoruba beads are handmade by skilled craftspeople for their livelihood.
As of this post, all of the pieces pictured above are still available in my Indie store!
Happy Holidays to all, and to all a good night.
Gloria