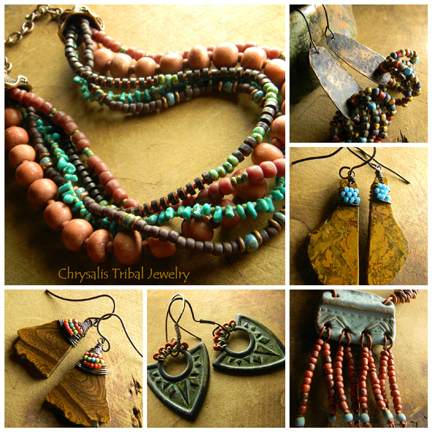 Trade Beads and Vintage Seed Beads
or a seemingly benign, but potentially insidious addiction
My love of the tribal look is no secret, but one of the elements of my designs is the liberal dose of vintage beads or seed beads. I like to use them in layers allowing the colors to blend together in sumptuous combinations and sometimes in patterns. Many of these beads are in colors that are in limited supply because of the changing tastes of the times, but I still love the vintage French and Italian bead colors.
The name "trade beads" comes from the use of European made glass beads as currency in Africa and also in North American from the 16th century through the 20th century. Czech made (as well as some French) white heart and green heart beads have been circulated since 1480, and are still made today. As the name implies, they have a white or green core and another bright color on the outside. It is possible to buy white or green heart beads that are very old, and their age adds to their charm and character.
Vintage seed beads are found in colors that remind me of native American costumes with their meticulous beadwork. Their garments told a story, using tiny glass seed beads in colors like Cheyenne pink, and greasy yellow and blue. I adore these Venetian made beads that have slight variation in the color rather than the consistency of modern seed beads, and I can't help myself from hoarding them in great numbers.
Colorful seed beads add so much to my jewelry designs! They are definitely habit forming. I also use Indonesian glass beads that have the look of old circulated beads together with the trade and vintage colored beads for variety. Vivid Krobo and other glass beads are also an obsession of mine, but that is a story for another day.
Gloria
#Africantradebeadjewelry
#Southwesternbeadedjewelry
#seedbeadaddiction