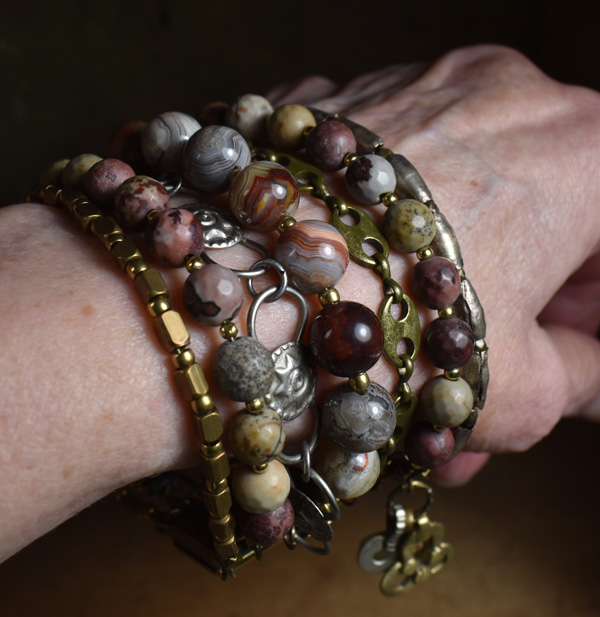 More is More - Especially with Bracelets
Three entirely different looks - the one thing that they have in common is More More More. I am definately not a minimalist when it comes to bracelets; I think they should make a statement whethe they are one strand or ten strands. Just think of how well an opulent bracelet picks up a simple dress or top and makes it look like a well thought out ensemble.
The bracelet above, from my Desert Winds Collection, is seven strands of agate, jasper and African metals in a subdued but very rich color palette. The mixing of the metals helps to bring out every shade of gray, sand, and aubergine in the stone beads. Click on the link to go to my Etsy shop where this bracelet is listed.
Now we move on to the brightly colored bracelets. The bracelet on the left is ten strands of brilliantly colored Czech pressed glass beads and Czech seed beads, in contrasting shades of teal blue, amber and burnt orange with a Mykonos green patina toggle that blends so well with the color scheme. A color palette that works well in any season, and can be worn with casual wear or dressy attire. Click on the link above to go to the bracelet in my web store.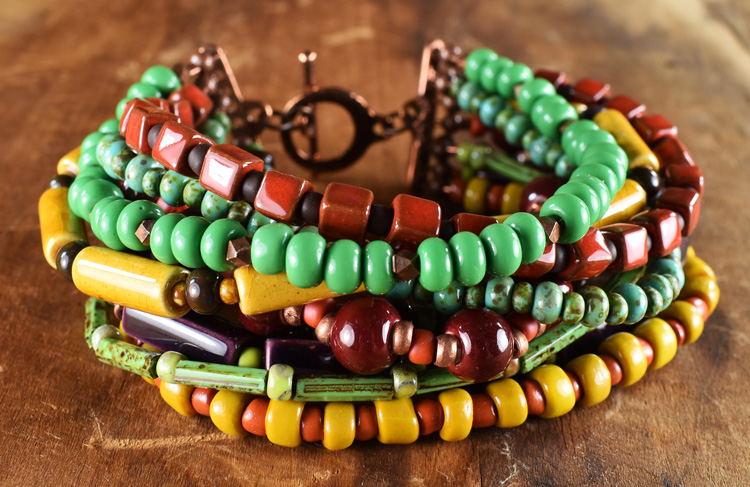 Now let's throw away any misgivings that limit colors and go for it! Nine strands of wildly contrasting Mykonos ceramic beads and Czech glass beads with a smattering of copper accents and a copper toggle clasp. As you can see, we are getting more uninhibited as we progress but isn't this fun to look at? And even more fun to wear. Jewelry is intended to be a means of self expression, an expression of me as I create it and an expression of you as you choose to wear it. It tells the rest of the world who we are and how we feel at any given moment. The links will take you to my Etsy shop or my web store. Thanks!
Gloria