Baby's First Jewelry
Not long ago, I was looking around for jewelry for my grand-daughter, who was 3 at the time. What I had in mind was something colorful, durable, and attractive to a child's taste. No cupcakes, or mermaids, or unicorns - no crystal, glass, or ceramic that could be a hazard - and not just a metal chain or bead strand with a heart charm. I was looking for something with a bit of originality. So, just for fun, I found a source for high quality, unbreakable acrylic/resin beads, and designed a few chunky necklaces for my grand- daughter, and the little girl next door who's a year younger. I minimize the kitschy kid beads, and looked for components that provide fun and vivid color without the cliché children themes. Then I made a few more for the toddler girls at church, and they were a big hit. My 3 year old grand-son especially liked the name bracelet.
This is my vision of childrens jewelry; it must be practical in design, affordable, and made to last for an extended period of time. My idea is not to just size down adult jewelry for little girls, but create pieces that have a child-like character, with just a hint of "tribal" here and there. Resin/acrylic beads in a variety of sizes and colors, dotted and striped beads (I will admit to a little bit of rainbow here), durable waxed Irish linen cord, and easy to use magnetic clasps. I knot in between each bead to minimize loss if there should be a break, but the linen cord is strong and it would take a powerful tug to loosen a strand from its clasp. The magnetic clasp is the best way for little ones to operate it themselves without threat of choking because even the strongest magnet will separate when you want it to, without a struggle.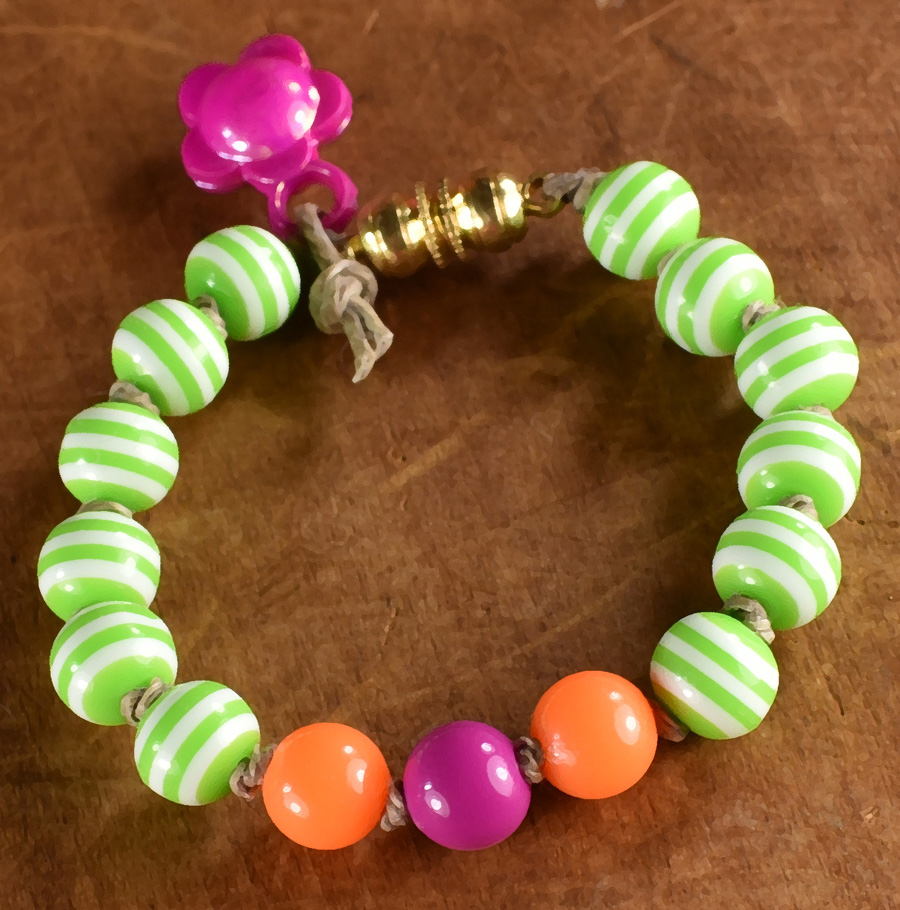 My preference is to keep the pieces simple, to be what kids (girls and boys) will find appealing, and to provide a product that buyers will see as a value. To even get started in this area, I have had to invest in a good selection of beads (almost entirely acrylic), so if you don't see exactly what you want, you are most welcome to request a custom necklace or bracelet. Name bracelets are a great way to start, and it's very helpful for me to have a wrist size - or I can reasonably estimate from the child's age. And don't forge the little boys, who really like the name bracelets too, in case you're wondering?
Check out the Tribal Tot designs as a stocking stuffer for the holidays!
Until Later,
Gloria