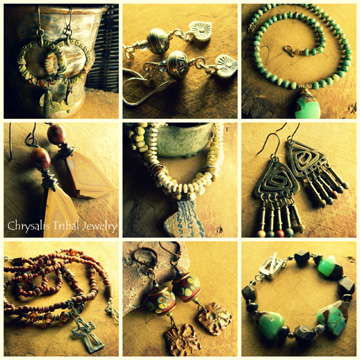 The Vintage Collection
It has now been 10 full years since I began to make jewelry! I am just as passionate about it now as I was on the first day I picked up a stone bead and marveled at its beauty. From the first, I deliberately stayed away from classes and tutorials so that I could develop my own distinctive approach to beading and later to metal work and clay.
During that 10 year period, I went from experimentation with jewelry in my spare time after my day job to working at jewelry design as a full time venture. Naturally, my style and my emphasis had evolved dramatically and I now lean much more toward primitive tribal design.
I still have several pieces of well made, rustic style jewelry that have survived from online venues that had a disappointing amount of traffic. I like them too much to take them apart, but they do not fit as well in the style direction that I am choosing to pursue. So I am offering them to you now at reduced prices in my Indie shop.
Don't miss The Vintage Collection
Gloria Ewing