Rustic Tribal Primitive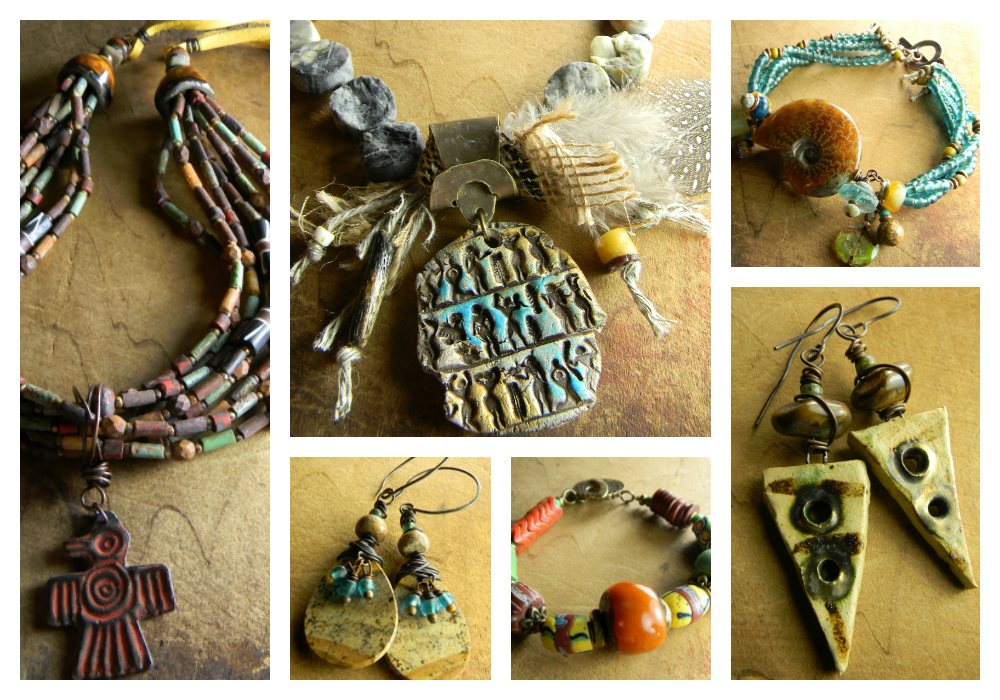 Tribal Jewelry Then and Now
Rustic handcrafted copper elements are frequently part of my designs, sometimes with delicate gemstones, and other times with ancient looking artisan lampwork glass or earthenware beads.
Tribal is the raw handmade beauty that is characteristic of African metal and glass beads that are made using the same methods as were used thousands of years ago.
Primitive is a character more than a style in my work. The emphasis is on achieving the right aesthetic rather than a polished perfect bauble.
These qualities are the essence of my work: rustic, tribal and primitive. I combine the new with the old in creating a current piece of art jewelry, each piece telling its own story with texture, color and composition.
Beads made from natural materials like bone and seeds had their beginnings tens of thousands of years ago. Jewelry evolved to using metal and glass, and the artistry of jewelry took a quantum leap. These adornments were and still are an art form and a means of expression, and were often designed for wealthy patrons to be worn as a symbol of personal status.
My love of ancient and ethnic jewelry has led me to create my own interpretations of rustic, tribal and primitive style adornments from a new perspective. My focus is to combine pieces of artisan ceramic and metal from present day artisans, and my own handmade components with vintage African trade beads and handmade clay or glass and metal beads from Ethiopia, Morocco and Ghana. Designing tribal jewelry is my means of self expression and my way of preserving a part of our diverse history as well.
Gloria Ewing