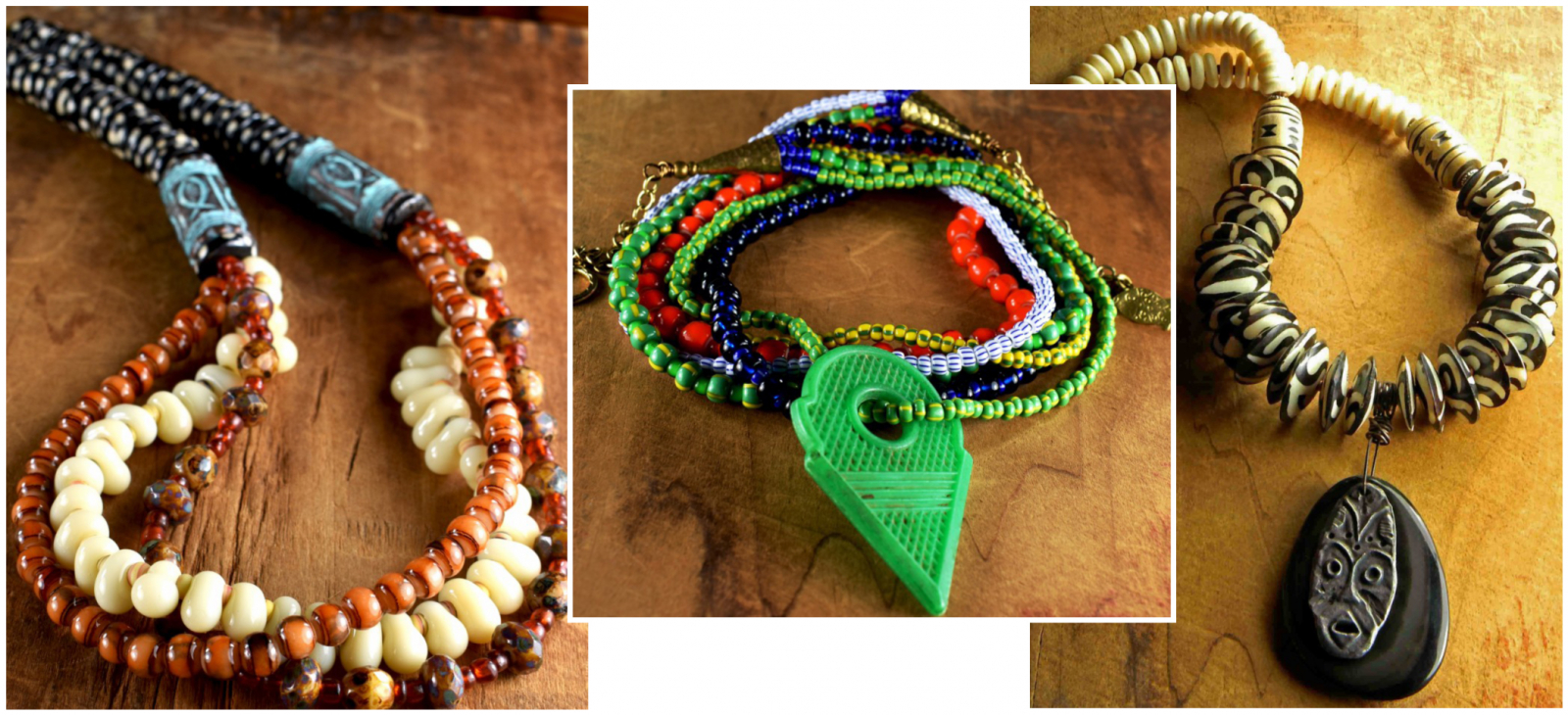 Tribal is an Attitude
Tribal jewelry is primal and instinctive.
Your choices are an expression of who you are. We choose where we live, where we work, what we eat, and how we dress. So free yourself; emerge from your cocoon and let your tribal out!
My inspiration, to create interpretive expressions of distant civilizations and their adornments from my current perspective. To do this, I combine rare old African pendants and beads with artisan glass, ceramic, and metal from present day artists. I often blend my own handmade components with vintage African trade beads, Roman glass, handmade clay beads, recycled glass and metal beads from Ethiopia, Morocco and Ghana. The result, I hope, are unusual pieces that stand out as my own distinct style.
2022 is a hopeful year, a year to explore new directions. My plans include collections of ethnic designs with the emphasis on Northern Africa. One upcoming collection called Sun Tribe will be announced in February, and another collection of Egyptian Scarab pieces will be ready in March. I will be working on a series of primitive metal pieces entitled Primal, with their focus on my own original components, intended to be both primitive and tribal in character.
If you love natural stones as much as I do, then you will be pleased to know that gemstone pieces will always be part of my work, this year including labradorite, amazonite, turquoise, opal, moonstone, and more. Usually mixed with tribal elements, gem cuts, interesting hand cut shapes that flatter the color and/or graining in the stones, and developing a composition that is both visually pleasing and comfortable to wear. Stones will be accompanied by Sterling silver, gold vermeil, sometimes other metals, and other unexpected materials.
If you are familiar with Etsy, I also have a shop there called Chrysalis Too. Please take a moment to visit, and contact me if you have an idea for a custom made item at: Chrysalis.HCO@comcast.net
Free shipping in the United States!!!
Free shipping in the US has worked out well and will continue in 2022. Shipping outside the US has become more difficult and expensive, so bear with me as my shipping charges must reflect this reality.

Gloria Ewing