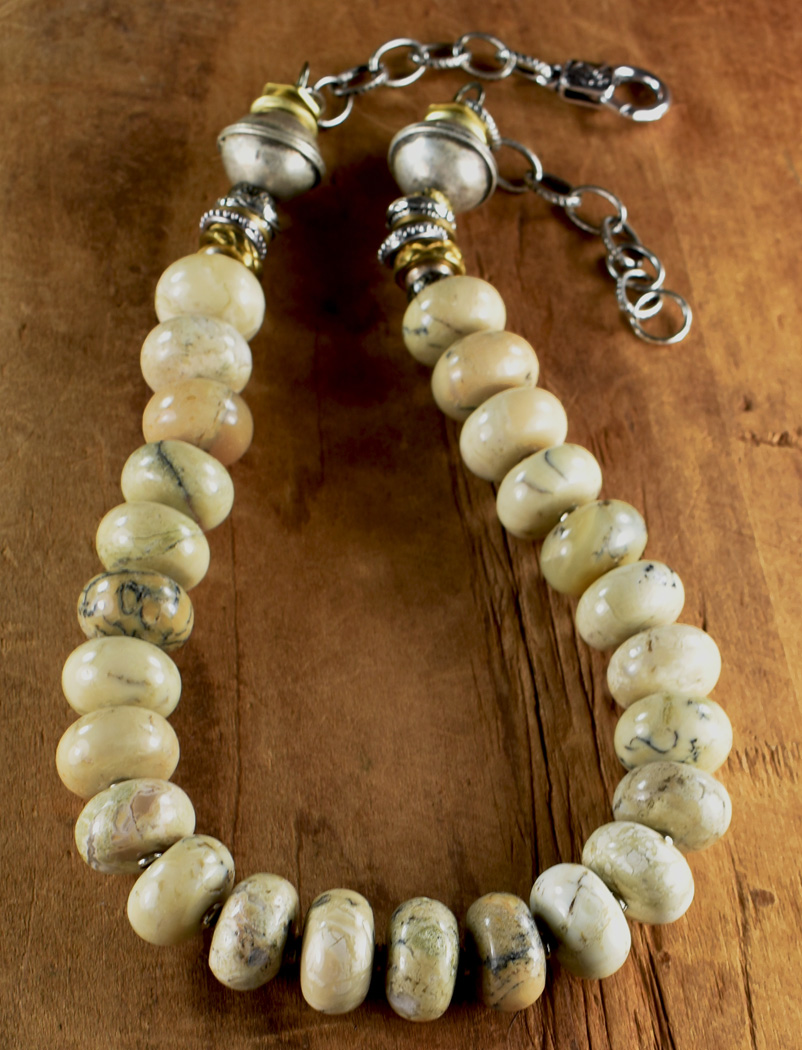 Winter White Jewelry
There is no rule that says neutral colored clothing or jewelry must be boring. Some of the most dramatic and captivating designs and color combinations use exclusively neutral colors. Who can dispute the power of a good black and white fashion ensemble, or piece of art? Black, white and gray also make a strong foundation on which to apply bright colors for a maximized contrast. An artist can make a bold statement using a minimal number of colors if the choices and the composition are well thought out, and this can most certainly be done utilizing neutral tones as part or all of a design.
African white opal, in the necklace above, has subtle veining in gray and black and also has a soft pink undertone that is pronounced by the addition of rustic mixed metals and antiqued silver chain. It is basically white but when you look closely you see all the fine details in the stones that add character to the white base.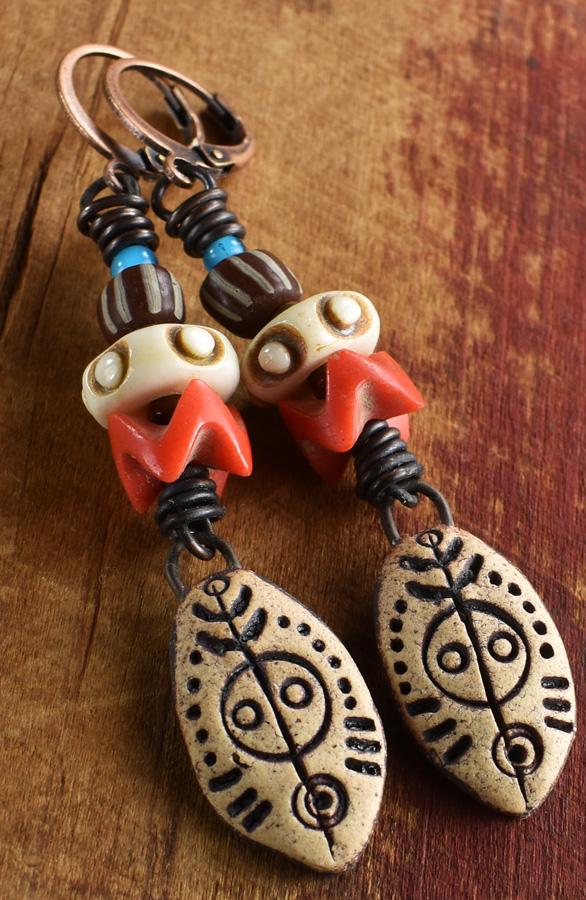 I'm open to other opinions, but I would include beige and brown also as neutral colors. As seen above, these tribal earrings have added dimension because of the blending of bone white, striped brown, and natural sand colored ceramic charms in a primitive motif. Just layering different colors, even if they are super bright colors, can come off as very one dimensional. Blending the neutrals (or naturals) with a touch or two of bright color is powerful.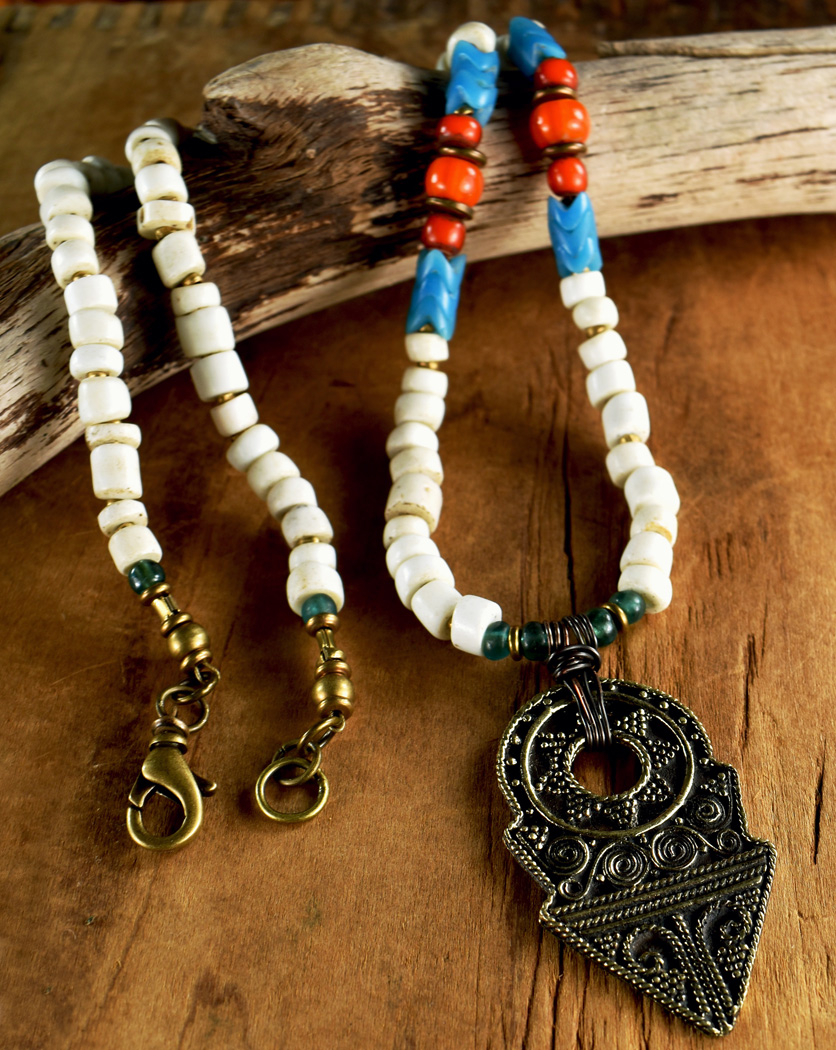 The white Masai beaded necklace with Talhakimt pendant illustrates how using fewer colors with a white background or foundation results in a pleasing and compelling combination. In this piece, the addition of brass and bronze accents provides another layer of interest and further enhances the composition.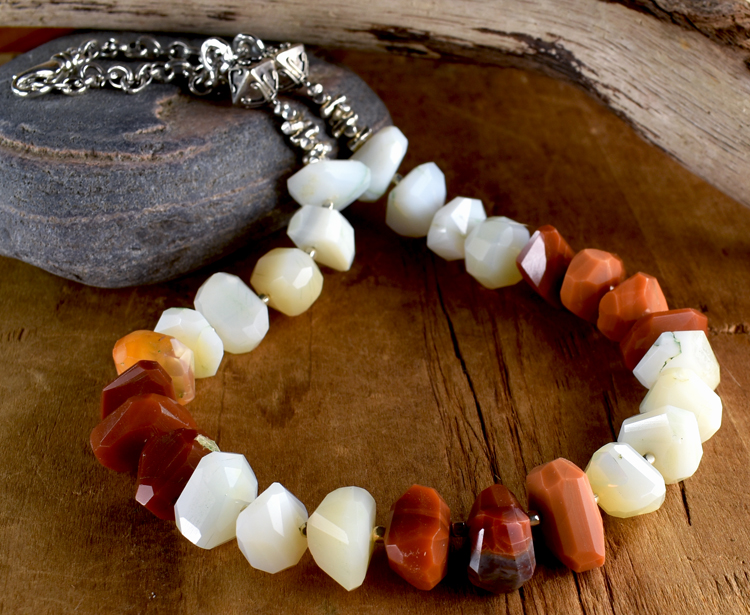 The Mexican Opal Choker above has a color range from white to orange to rusty brown, and as you can see there is definitely drama in a chunky combination that includes the entire range. So rather than shy away from neutrals, I look for new ways to use them effectively in creating new work that has spirit and originality.
Some of the jewelry items included in this post are from my Etsy shop, ChrysalisToo, and some are from the store on this site.
Gloria